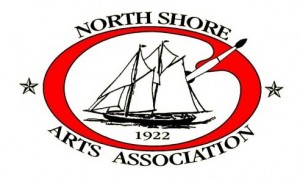 Hours May 5 – October 28, 2017
Monday – Saturday: 10AM-5PM; Sunday: 12-5PM
Established in 1922, North Shore Arts Association's historic harborside gallery provides visitors from across the globe the chance to experience one of Cape Ann's largest and most diverse collections of paintings, sculpture and graphics. In the mid-1800s, artistic life on Cape Ann was centered in Gloucester where native Fitz Henry Lane was painting luminescent harbor scenes. Francis Silva, William Trost Richards, Winslow Homer, and many other noted artists of the 1860s and 70s were attracted to Annisquam, Magnolia, and Rockport after seeing Lane's work. The area's first exhibitions were held in summer-hotel lobbies until William and Emiline Atwood opened the Gallery-On-The-Moors on Ledge Road. This gallery quickly proved too small for the hundreds of new artists coming to the Colony. Thus, the North Shore Arts Association was formed.
Its members soon arranged a grand exhibition to be held the summer of 1923 – the year of Gloucester's tercentenary celebration. Cape Ann artists excitedly welcomed the new, expanded Association in East Gloucester, especially due to the NSAA's goals of bringing together a comprehensive and representative exhibition and persuading more artists to come to the North Shore to further American art.

In December 1922 the Association was officially incorporated as a non-profit institution. Opening its doors to the public in July 1923, NSAA's exhibition took up two floors. There had never been a larger collection of art shown at one time in Gloucester: 230 paintings, drawings and etchings, and 15 pieces of sculpture, by more than 140 artists.

Today, NSAA has a thriving membership of over 600 Artist Members and Associate Members, working in a variety of media and styles. In addition to exhibitions, NSAA offers demonstrations, workshops, lectures, critiques, film presentations, concerts, and an Annual Gala and Live Auction of Fine Art each August.